"Samples are the gateway drug to big Sephora splurges."
Recently I've made a few purchases on Sephora and Ulta's websites. Okay maybe more than one – but the post-holiday gift cards had me like: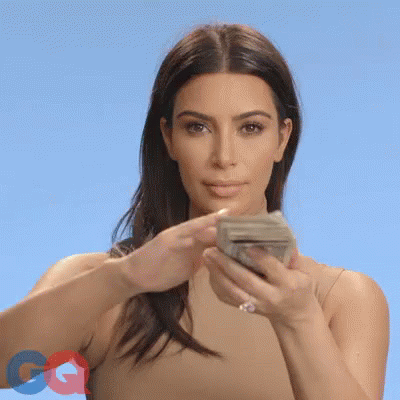 So, rightfully so, I've gained a couple samples in the mix. Also – you can walk into any Sephora and request samples of products in a small little tub that may last you 2-3 tries. It makes it super convenient before splurging and if you're in the market for a foundation, they can shade-match you!
Fenty Beauty Soft Matte Longwear foundation in 150 – retails for $34
First off, shout-out to Sephora for offering samples of foundations so ya girls on budgets can test it out before we blow a couple Hamiltons on one makeup product. I wore this foundation twice, and both times for at least 10 hours. Here are my thoughts:
Applies like a dream

– this foundation has a liquid-y formula that dries down rather nicely and in a timely fashion without sinking into fine lines

The coverage is THERE

– for the first time in awhile, I only used my concealer to highlight (the foundation already covered blemishes)

The finish is beautiful

– it truly is a soft-matte that doesn't look too dry/cakey on my skin
My cons: It started to break up on my nose about 5 hours into wear and I could see some redness peeking through. I also have to say its "matte" lasting formula is lacking in a sense that I am shiny by hour 5 as well.
Am I making the splurge on the foundation after sampling it from Sephora? Sadly, no.
2. Too Faced Born This Way foundation in Snow – retails for $39
I wasn't a huge fan of this. And for almost $40, I was even less of a fan of this. Surprisingly, this clung to my dry patches. I believe this foundation is known for achieving a more natural finish (not so much dewy, and not so much matte). My skin looked even less hydrated when I put this on, and that was a disappointment. I also have to say it dried incredibly fast, which leaves it difficult to blend out.
I would not spend $39 to purchase the full size.
3. Smashbox Photo Finish foundation primer – retails for $36
This primer is v nice – in fact, it feels luxurious. I am not an avid user of foundation primers, but this felt really smoothing to me. I couldn't stop touching my face before I applied foundation once this primer was down. It was incredibly smooth and silky, and created a nice base for foundation to lay on top. My skin looked poreless and it wore really well.
Until… ya girl's oily skin went on a streak and shined me up within hours. I would honestly think of spending the $$$ if it didn't make me so greasy. To all my gals with dry skin out there: I'm sure you'd love this.
Unfortunately, I'll have to pass.
4. Smashbox Photo Finish lid primer – retails for $21
I was really excited to try this primer because of Casey Holmes. Her previously-raved about lid primer for oily eyelids was the NARS smudge-proof eyeshadow base, and I highly enjoy that one. This one didn't do all that much for me. It does have a tint to it so that it conceals redness, but I'd honestly rather use a concealer for 1/4 of the price.
I'd skip purchasing this and just use a concealer.
5. Too Faced Hangover primer – retails for $32
I liked this primer a lot more than I thought I would! It's hydrating and primes your makeup all in one. I have a shiny t-zone, and I didn't find that this primer made me any oilier than I normally get. In fact, I don't think I was as oily as typical. A miracle, I know. And the lasting power throughout the day was there, I didn't notice my foundation rubbing off in the spots it typically does.
Honestly, I would consider purchasing this. But, for the price, I'd probably reconsider a more affordable option.
Xoxo,
KS
Connect with me!
Instagram: ksloves
Twitter: ksloves_
Pinterest: ksloves_